What is involved in a PADI Open Water course?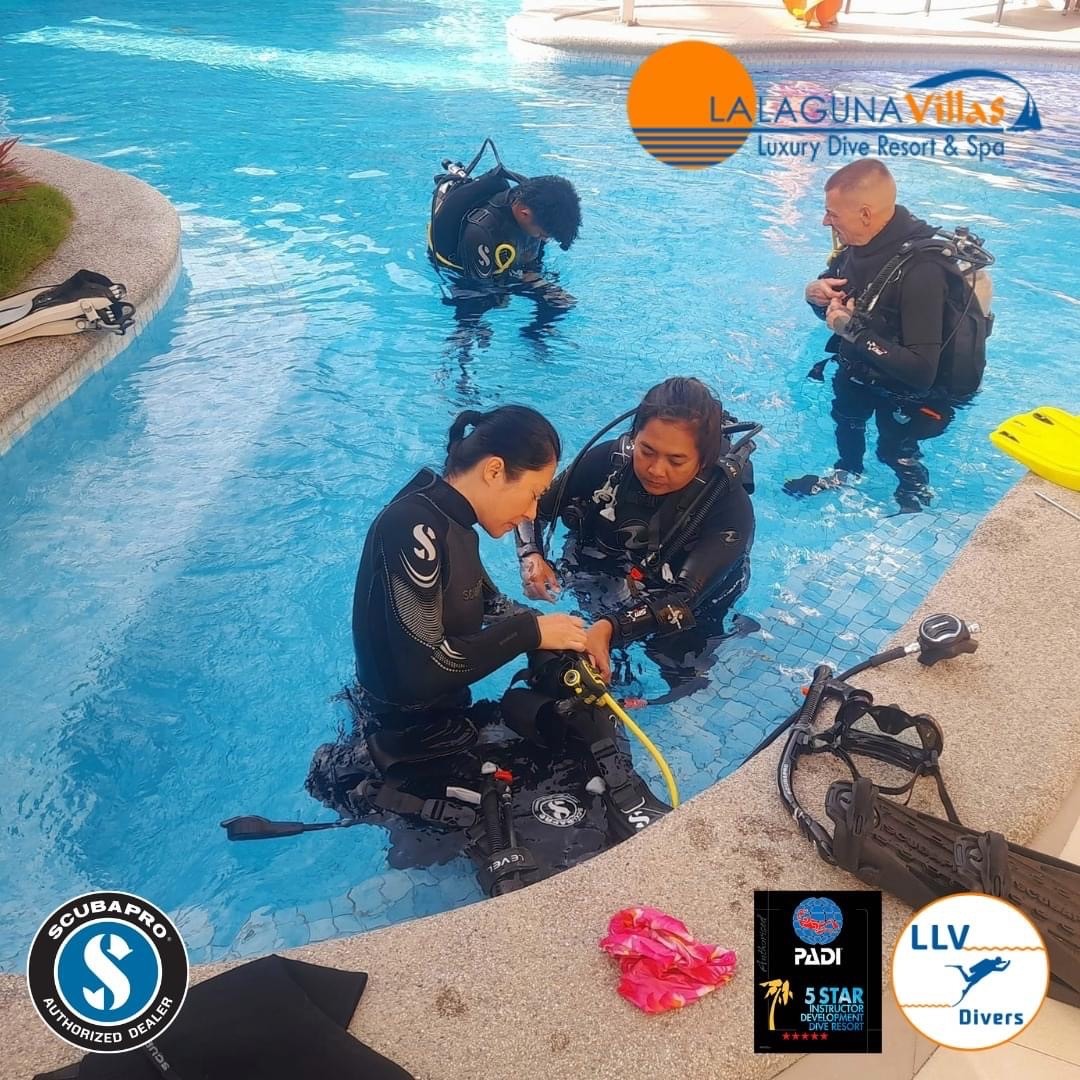 The PADI Open Water Diver is the first scuba certification level. One of our highly-trained PADI Instructors will teach you how to scuba dive in our custom-designed swimming pool and then in the open ocean, leading to you becoming a fully certified diver. 
After completing the course you will be able to dive to depths of 18m and you'll hold a certification which you can present at any dive shop in the world, rent gear, jump on a dive boat, and start exploring the underwater environment wherever you are. 
What is the PADI Open Water course comprised of?
There are three main parts to the Open Water course: knowledge development, confined water dives and open water dives.
Knowledge development
The knowledge development is provided through PADI e-learning: interactive online learning modules with student manuals, informative videos and quizzes. 
You'll learn the principles of scuba diving, basic diving procedures and hand signals, and what to consider when planning dives. You'll also watch videos which preview and demonstrate the scuba skills you'll then practice with your instructor, first in the pool and then in the ocean.
It can be completed in your own time on a desktop, laptop, tablet or smartphone, and takes an estimated five to ten hours of private study.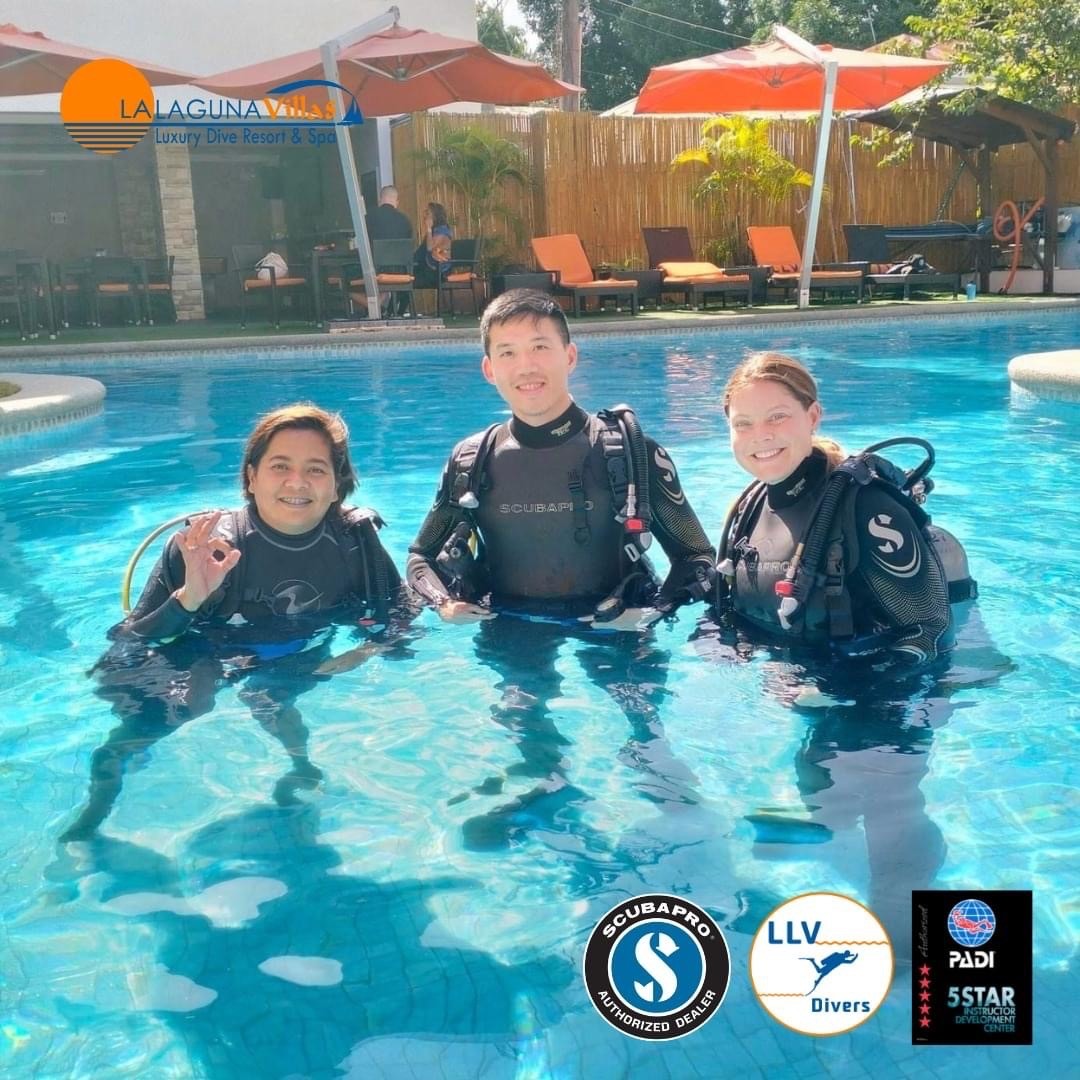 Confined Water Dives
The confined water section, here at LLV, takes place in our landscaped multi-level open air swimming pool, the largest in the Puerto Galera area. This is where you will become familiar with your scuba gear including the air cylinder, buoyancy control device (BCD), and regulator used for breathing underwater. 
Your instructor will demonstrate key skills like how to equalize the pressure in our ears when you dive, how to clear a flooded mask, how to retrieve a regulator if it pops out of your mouth, and how to maneuver underwater. Once you and your instructor are happy and confident with your skills, it's time to move on to…
Open water dives
The course includes four open water dives, which usually take place over two days, initially down to a depth of 12m (40ft) and ultimately to a maximum depth of 18m (60ft).
We keep the first dive intentionally simple but review putting on your equipment, performing a pre-dive safety check, getting you wearing the right amount of lead weight to ensure you can be neutrally buoyant underwater, and basic hand signals. 
Further dives add additional skills including a controlled descent, and what you've learned in the pool like clearing a partially-flooded mask or retrieving your regulator.
You'll experience "buddy-breathing" using your buddy's alternate air source while underwater, using a dive computer to know how long you've been down and how long you can stay at a given depth, and how to make a safe controlled ascent. 
By the fourth dive you can mainly concentrate on exploring the incredible coral and marine life of Puerto Galera, accompanied by an LLV PADI Diving Instructor. And that's it!
What is the age requirement for PADI Open Water?
You must be at least 10 years old to begin an Open Water course. Younger children (over 8 years old) can get their first taste of the underwater world and of breathing underwater by taking the Bubblemaker course, which introduces them to scuba in water less than 2 metres deep.
What are the physical requirements for PADI Open Water?
You must be in robust physical health and you should be able to swim, but many disabilities and health requirements can be accommodated.
How long does it take to become PADI Open Water certified?
The course takes three to four days to complete, although that includes time spent on e-learning and watching instructional videos which can be completed in advance of your arrival here at LLV. 
How deep are you certified to dive as a PADI Open Water diver?
The maximum depth to which Open Water certified divers can dive is 18m (60ft). 
Most of the world's greatest recreational diving takes place within this depth limit, as more sunlight and warmth reaches these depths so the most beautiful corals and most teeming marine life, especially reef life, congregates at these depths.
The PADI Advanced Open Water course certifies divers down to depths of 30m (100ft). 
Can I dive without being Open Water qualified?
Scuba diving like any such activity has inherent risks. Just as you wouldn't rock climb or skydive without learning the basics, you shouldn't scuba dive without the relevant experience and qualifications – and no reputable dive shop or diving resort would allow you to.  
But there are shorter courses, including the Scuba Diver course, which provides the foundations to get you in the water if you have limited time available for learning. Check our Diving Courses page for details.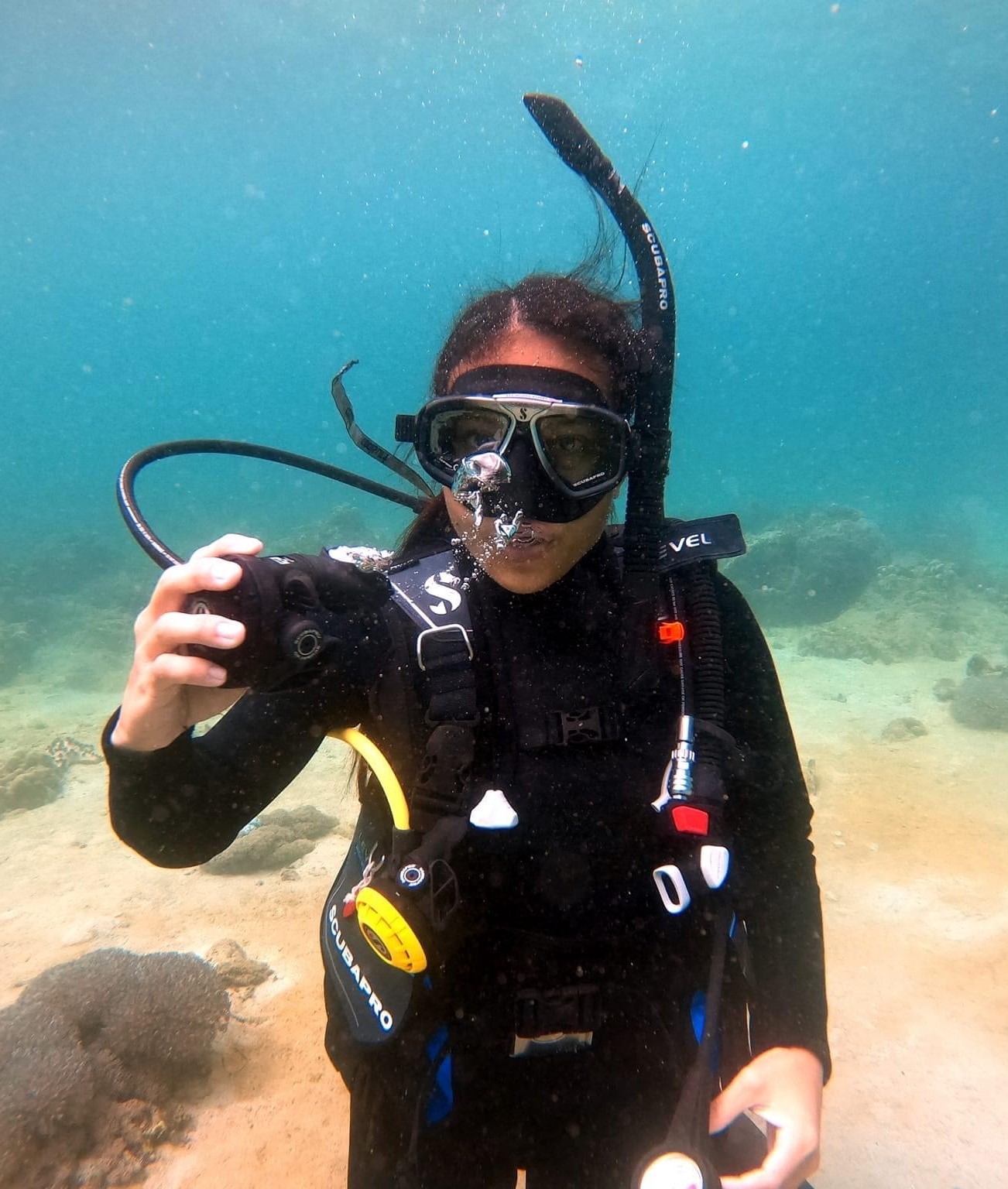 How much does a PADI Open Water course cost?
See our Diving Courses page for an up-to-date list of dive course prices.
Is it hard to pass PADI Open Water?
We like to say that you pay for your course, but you earn your qualification. So it does require some work on your part –  and you will need to learn to be okay with the initially-strange experience of breathing underwater! 
But no, it's not hard – the average person can easily learn to dive and with the tutelage and personal care of our experienced and friendly instructors the course is both attainable and enjoyable.
How do I book a place on a PADI Open Water course?
Get in touch! LLV is an authorised PADI 5 Star Dive Resort so you know you're in the very best of hands.  Phone: +63 917 570 3415    |    WhatsApp / WeChat / Viber: +63 917 570 3415    |    Email: [email protected]    |    Go to our Contact Us page