New Health & Safety Measures to Maintain our COVID-free Environment
Our resort has been operational for the last few months after being granted a Certificate of Authority to Operate CAO by the Philippines Department of Tourism (DOT). We were one of the first resorts in the region to be granted the CAO and to open to new guests.
To achieve this, we've implemented new health and safety measures set by the DOT and the Philippines Department Of Health (DOH), to provide safety for our guests and staff.
We're pleased to announce we've passed all of the ongoing detailed inspections by the DOT on the implementation of the mandated protocols. Our resort fully complies with all of the new guidelines, ensuring a safe environment for our guests.
Additionally, separate snap inspections by the Municipality of Puerto Galera, revealed that we are one of the best-prepared resorts in the region for the implementation of the Covid-19 requirements. They've been very impressed with the set-up, processes, and procedures we now have in place.
All credit goes to our entire team, who continue to work to effectively implement all of the new protocols, thus ensuring a safe COVID-free environment for everyone.
LLV Cares – Our Commitment to You
These guidelines and protocols are only the starting point for our wider protective and preventative health and safety program. Something that we call, LLV Cares.
In response to what many are now calling the 'new normal' in hospitality and travel, we've introduced a program that goes beyond just extra service.
In this time of uncertainty and unease among travelers, what's important to you is that you're protected the way you've been doing for yourself and your family, over recent months.
LLV Cares is our assurance that we'll take steps to protect you while you're staying with us. We want your time with us to be enjoyable and also safe!
Measures for your Protection
The following are just some of the new health and safety measures we've implemented to protect you. All adhere to the strict protocols mandated by the Philippines Department of Tourism (DOT) and the Philippines Department Of Health (DOH).
The Philippines has taken a very stringent approach towards enhanced health and safety measures during the pandemic, so many of these protocols exceed those recommended by the World Health Organization.
Safety & Well-being
Mandatory body temperature screening for guests and staff upon arrival.
Sanitizer and footbath stations at the entry to the resort – required before entry/re-entry is granted.
Signing of the required DOH Health Declaration Form upon check-in.
All staff are required to wear personal protective equipment (PPE) such as masks, gloves, and face shields.
Disinfectant and hand sanitizer are readily available in all public areas and restrooms.
Sanitizer, masks, gloves, disinfectant, and shoe coverings are available at designated stations.
Social distancing measures are in place throughout the resort – including barriers and markers at check-in, with all public seating areas promoting physical distancing of at least one (1) meter apart.
Display of health & safety reminders throughout the resort.
Mandatory capping of our resort's occupancy at 50% encourages social distancing.
LLV Care Kit
Our LLV Cares Kit is available in every room – the care kit includes hand sanitizer, a face mask, disposable gloves, and antibacterial wipes, and can be replaced or replenished by contacting reception.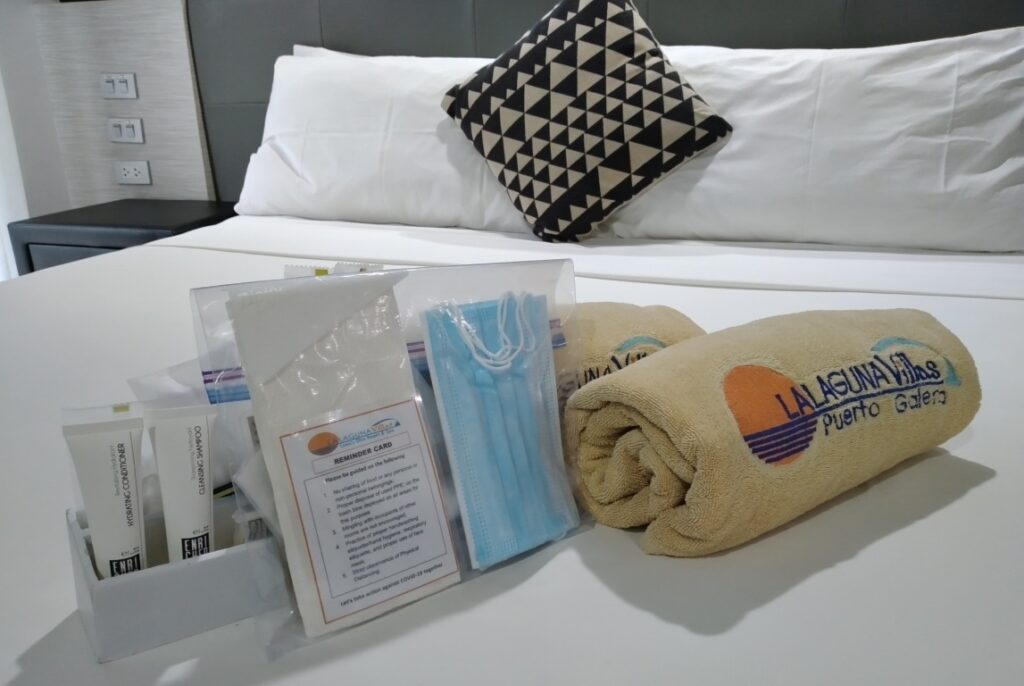 Enhanced Cleaning
Heightened cleaning and sanitation procedures throughout the resort.
Restrooms and high-touch surfaces, like elevators, doorknobs, and railings are continuously and thoroughly sanitized.
Expanded availability of trash bins with lids to separate trash – food, nonfood, and used PPE.
Ultraviolet germicidal irradiation (UVGI) and solutions prescribed by the DOH are used daily in the resort's sterilization process – this involves irradiating surfaces with UV and spraying/misting with disinfecting solutions.
All luggage, packages, and goods are disinfected by misting and UV light before entry to the resort.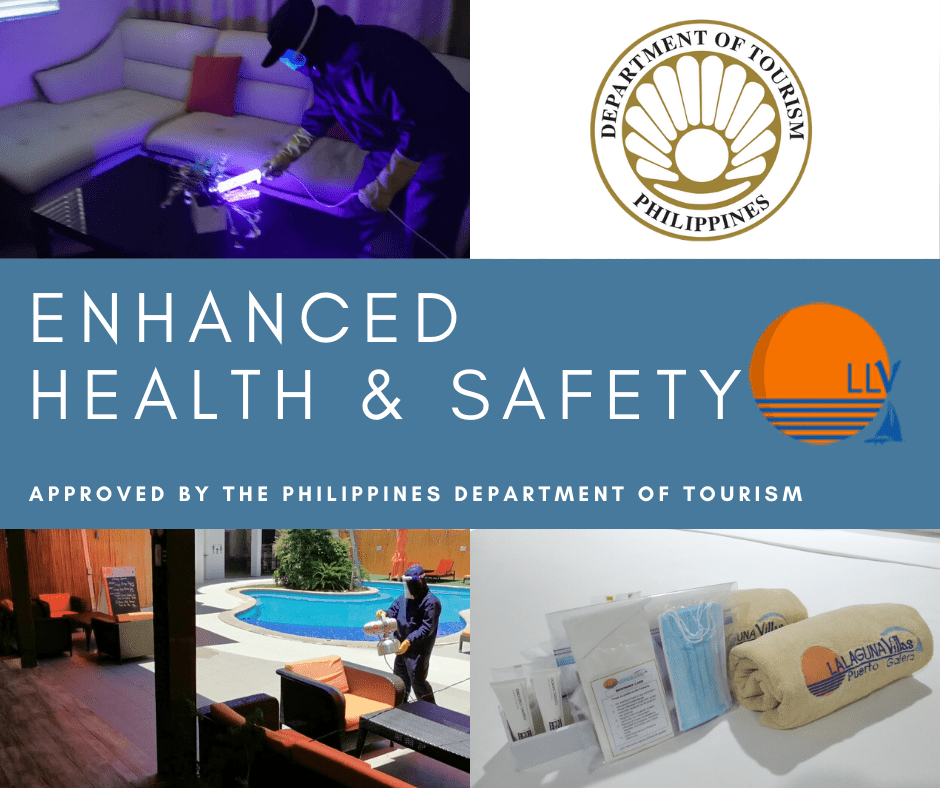 Cleaning and sanitizing of rooms and common areas are performed using DOH prescribed protocols.
Some areas, such as restrooms and common areas, are thoroughly sanitized and cleaned throughout the day.
Ultraviolet germicidal irradiation (UVGI) and solutions prescribed by the DOH, are used in the sanitation and sterilization process. All solutions used for disinfecting are approved by the World Health Organization for their sanitizing effectiveness and safety.
Guestroom Safety
Beds in guestrooms are placed at least one (1) to two (2) meters apart.
Ultraviolet germicidal irradiation (UVGI) and solutions prescribed by the DOH are used for the room sterilization process.
A thorough sanitization of frequently-touched surfaces such as doorknobs, light switches, remote controls is performed.
Guestrooms are kept vacant for extended periods between guests, and rigorous sanitation and disinfection is performed – vacancy time before a room can be occupied is 24 hours or greater.
Trash bins with disposable waste bags are in all rooms.
You can be confident that when you enter your room it has been sanitized and disinfected to the most stringent standards.
Your room is your secluded retreat, so you want it to be safe as well as comfortable.
All guestrooms are thoroughly sanitized and rested before your arrival.
They are left vacant for a period to enable sanitization procedures to take effect and to ensure your safety.
Enhanced Food Hygiene
Limited seating capacity per table in the restaurant and bar areas to enhance social distancing.
Enhanced restaurant and kitchen hygiene practices have been strictly implemented for food handling and food safety.
Increased frequency of cleaning and sanitation of frequently touched surfaces such as tables, counters, menu, etc.
All kitchen and F&B staff must wear masks, face shields, and other PPE when handling food.
Hand sanitizers are readily available in the kitchen, restaurant, and bar area.
Digital menus will soon be available for our restaurant.
Emergency Preparedness
Protocols in place for screening and management of symptomatic guests.
A safe isolation area for guests showing any symptoms.
Protocols and procedures in place for emergency situations.
Extensive staff training of all Health and Emergency Protocols.
These are just some of the measures we have implemented to protect you to ensure your safety and well-being while staying with us. For the moment, the 'new normal' is here to stay. So that you can relax and enjoy your stay, we aim to make these new changes and procedures as discreet as possible.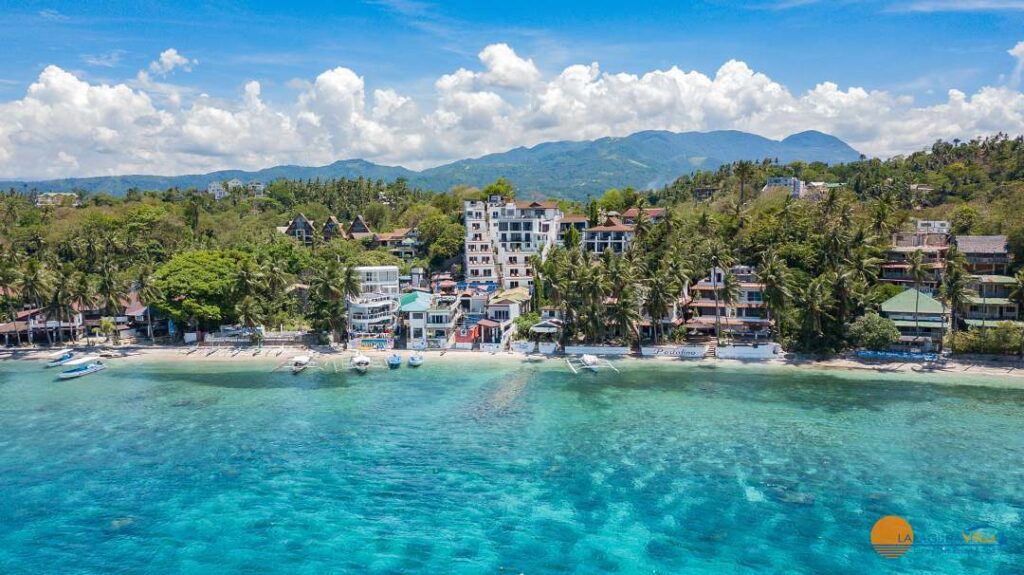 With private villas opening to large secluded terraces, an uncrowded beachfront location, and dining options, which include 24-hour room service, Lalaguna Villas is the perfect post-quarantine escape.


We'll be ready for when you're able to travel again and look forward to welcoming you to Lalaguna Villas!